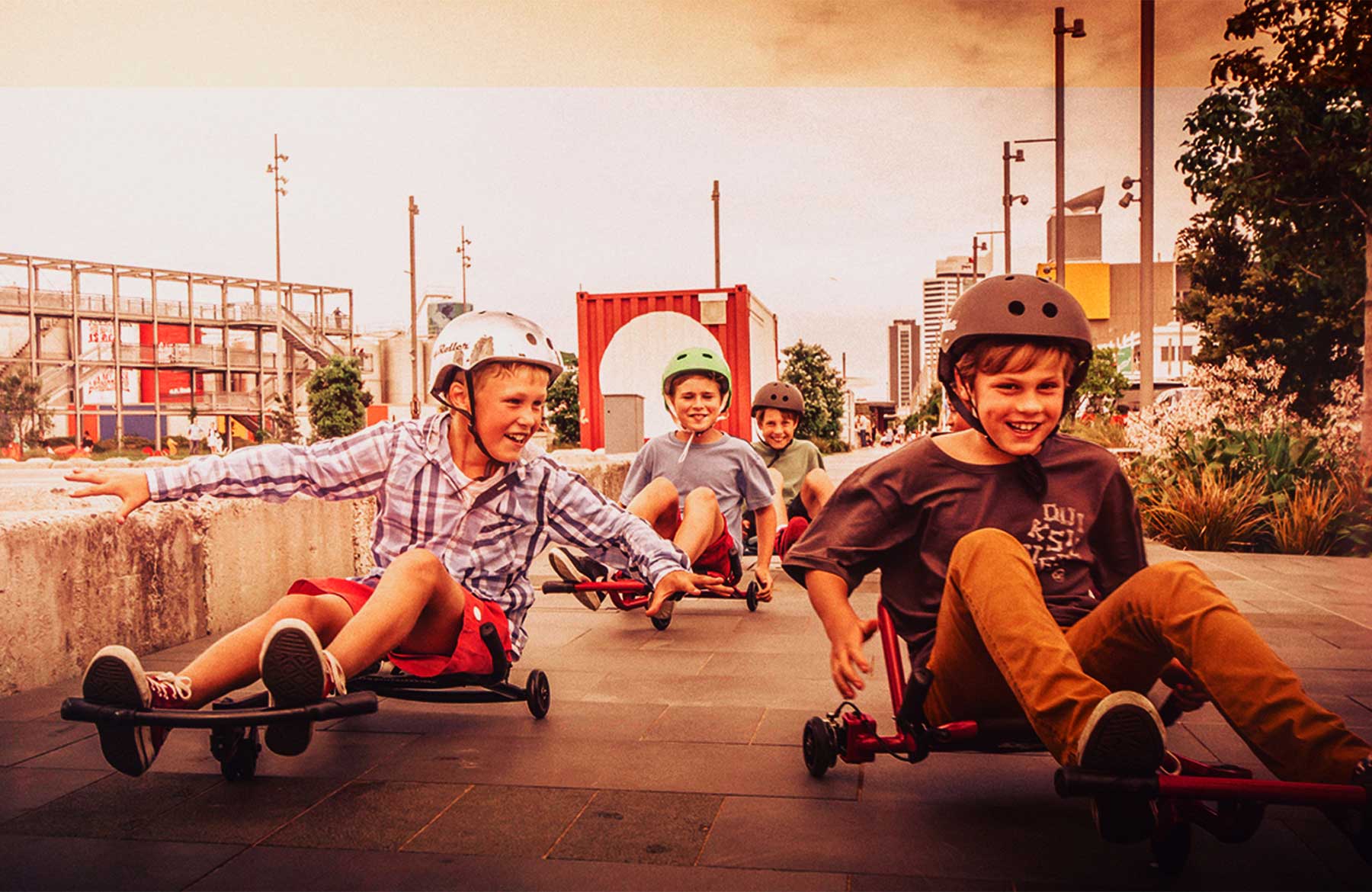 Our Ezyroller journey began 20 years ago when our 2-year-old son hopped on a little ride-on toy that had us instantly captivated. Without any chains or batteries, he was cruising along in a continuous curving motion created by his little hands pushing side to side on a hand bar. The movement was genius - and the fun he was having was huge.
Digging a bit deeper, we discovered it was just one of many toys using the same 'rider-generated' forward motion, known as cambering. The ride-on toys were all clearly designed for youngsters – but we could already see the potential for something new and different with much wider appeal. The seats, frames, look and overall stability of the existing ride-ons revealed an opportunity to redesign and recreate!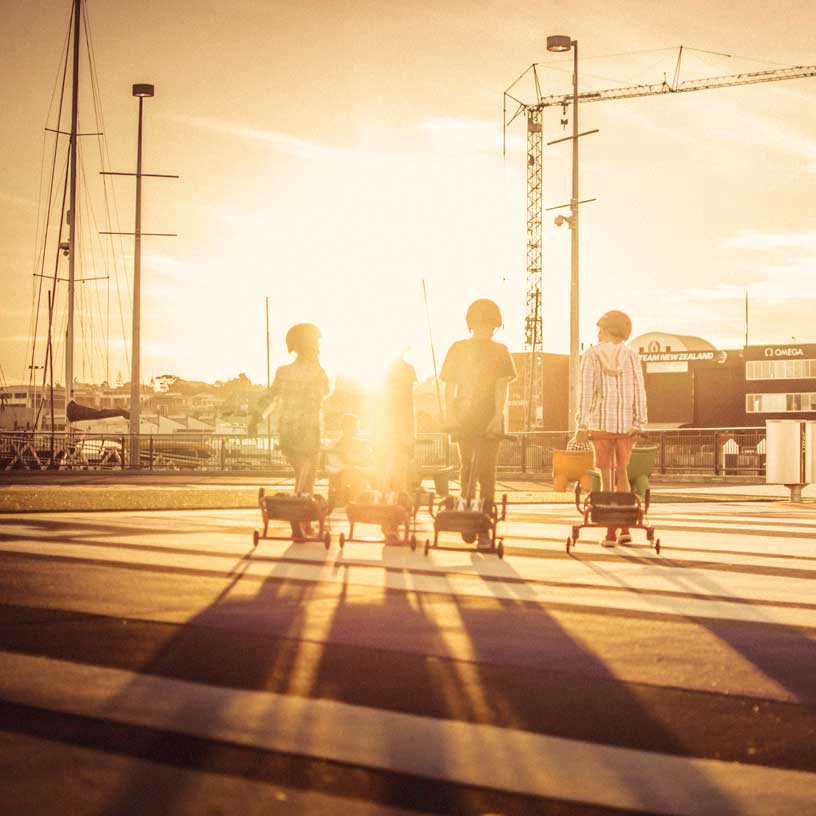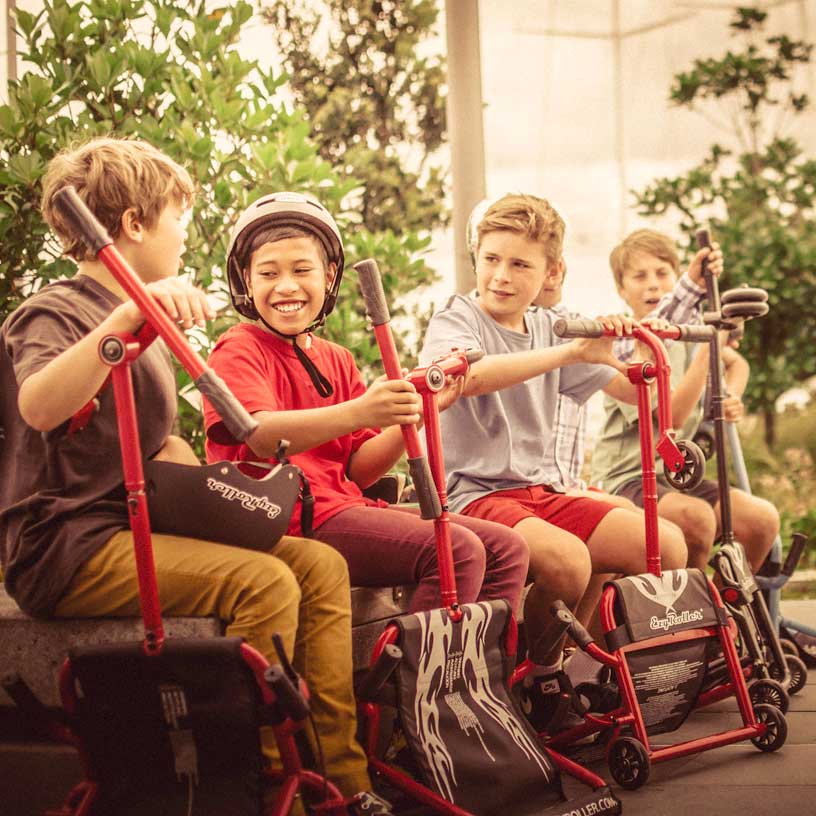 And so began our mission to come up with a superior ride-on experience using the same ingenious cambering motion but topping it with something totally new. We wanted improved strength, stability, smoothness of motion, and a racier, cleaner look that would appeal to kids of all ages.
What followed was a solid year of testing and tinkering, with each change being put through its paces by the toughest toy critics around – the kids in our neighbourhood. Every new tweak to this ride-on toy was tested along our driveway by our three boys, the neighbours' kids, their friends, and their friends' friends.
Eventually we arrived at what would become our flagship product, the Ezyroller Classic. The kids immediately loved it – it was tough and sturdy, it was racy, and it glided along beautifully. It was also extendable, meaning the kids could keep rolling with it as they grew. But best of all, we noticed all the cool, inventive play going on - the kids would be racing, chasing or towing each other, chalking the pavement, throwing each other balls, even jousting with their plastic swords!
Since the launch of the Ezyroller Classic our team has continued to add to the range, with each new version fulfilling our mission to improve, diversify and add new levels of fun to the Ezyroller experience. Every show, every test, every factory visit, every discussion is an opportunity to find new ways to be better. We've since developed the Ezyroller Drifter (for our more adventurous riders), the Mini (to better suit our littlest riders) the Pro (to get big kids in on the action) and our X series (with a new twist on the original look). We've also introduced a range of game accessories for those riders with a more competitive streak!
Today, Ezyroller boasts an award-winning range of models and accessories suitable for every age, size, personality and skill level. Whether you're a racer or a cruiser at heart, want to shoot a few hoops, hit hockey shots or just invent games of your own, there's no limit to the fun!
We won our first awards in 2007 when we presented our Classic model in the US and we just won our 25th one in March 2023 for our Hockey Set!